Topics we are proud to announce so far
All about cervical sutures – an update on when they should be done, why a monofilament may be better, tips for the difficult suture placement
An update on NIPT – What exactly should you be telling patients, and what other diagnostic information can be extracted from circulating fetal DNA?
An update on point-of-care diagnostics – quantitative fetal fibronectin, and the possible role of PIGF for preeclampsia and fetal growth restriction
What is the evidence that maternal sleep position is important for reducing stillbirth?
Talks on stillbirth, early pregnancy complications, medical conditions of pregnancy and more….
PLUS, Stephen and Sue will be facilitating two special sessions…

A journal club session covering landmark papers of 2019 – the ones you need to know.
We plan a new initiative – a special expert panel session where we will pick the brains of our eminent speakers on the evidence for (and against) the use of progesterone for preterm birth prevention.
We note sometimes, such discussion sessions can end up confusing more than illuminating. Therefore, at the end of the session we will do our best to find a consensus, and the points of contention so that we all can walk out understanding where the current evidence sits in this rapidly moving and hotly debated topic.
Bring your flack vests!
Our confirmed speakers
We are delighted to announce we have confirmed some incredible speakers for GOU 2019.....
A world-renowned perinatal epidemiologist, Prof Smith has published numerous landmark papers in the world's most prestigious journals – New England Journal of Medicine, The Lancet, British Medical Journal, and others. He has wowed the GOU audience for two years running with presentations of crystal clarity and amazing intellect. We are thrilled he has agreed to return a third time to GOU.
A highly eminent researcher who has a strong interest in developing new ways to predict and prevent major pregnancy complications. Large research initiatives include a randomised trial of ursodeoxycholic acid for cholestasis of pregnancy, the use of PIGF as a bedside diagnostic for placental complications, and others. She has published prolifically in many areas of clinical obstetrics, especially hypertensive disorders in pregnancy. She also has an interest in undertaking studies in low resource settings.
Professor Phillip Bennett is one of the most eminent global figures in the area of preterm birth. He is a clinician-scientist and runs a world renown laboratory trying to help us better understand the process of preterm labour. Like most of the other invited speakers, he has published hundreds of scientific articles. A recent discovery he has made which has changed practice recently is the concept that using a monofilament for cervical suturing may be better than the mersilene tape. He also has expertise and research interests in recurrent miscarriage and other areas of clinical obstetrics.
Professor Chiu has had a longstanding interest in non-invasive prenatal testing (NIPT) and the possibilities of extracting information from circulating DNA beyond T21 screening. Her world-leading research team undertakes scientific research at the highest level to push the boundaries of non-invasive diagnosis. The impact of her research is reflected by her multiple publications in highly influential journals.
Dr Gordon is an academic neonatologist with a strong interest in pregnancy research, especially in the area of stillbirth. She has pioneered the translation into practice of the concept of sleeping on the side to decrease the risk of stillbirth, and she is part of the NHMRC Centre for Research Excellence in Stillbirth. She also has research interests in clinical neonatology and childhood health, thus spanning the entire continuum of perinatal and paediatric medicine.
A formidable roll call of highly eminent speakers. BUT – stay tuned as we will announce more throughout 2019.
GOU Program
Day 1
07:30 - 08:30

Registration

08:30 - 08:50

Welcome

08:50 - 09:00

Setting the scene: Difficult birth and the aftermath

09:00 - 09:30

The risk of pelvic floor injury with instrumental delivery - an objective appraisal of the literature

Fiona Brownfoot

09:30 - 10:00

The neonatal course and outcomes for fetuses who run into problems after an instrumental delivery or difficult birth

Adrienne Gordon

10:00 - 10:15

Questions/panel

10:15 - 10:50

Morning tea

10:50 - 11:00

Setting the scene: Obstetric complications... complications that get in the way of obstetrics

11:00 - 11:30

Measuring Placental Growth Factor (PIGF) as a point of care diagnostic - the new trials

Lucy Chappell

11:30 - 12:00

Tips from the trenches - the first 20 weeks

Teresa MacDonald

12:00 - 12:30

Cholestasis update - and the hot new evidence on fetal risk

Lucy Chappell

12:30 - 12:45

Questions/panel

12:45 - 13:50

Lunch

13:50 - 14:00

Setting the scene: Fetal abnormalities series - Fetal Heart

14:00 - 14:30

5 Common structural abnormalities of the fetal heart and what to do during pregnancy

Cathy Cluver

14:30 - 14:50

The same 5 common structural abnormalities of the fetal heart - what happens after birth?

Adrienne Gordon

14:50 - 15:10

Questions/panel

15:10 - 15:40

Afternoon tea

15:40 - 15:50

Setting the scene: Aussie Heroes

15:50 - 16:20

Special Oration - "Bumps in the road"

Lucy Chappell

16:20 - 17:00

Final event ...

Sue Walker and guest

17:00

Welcome event
Day 2
08:30 - 08:40

Setting the scene: Stillbirth

08:40 - 09:10

What do we do now with decreased fetal movements?

Sue Walker

09:10 - 09:40

Senate enquiries and the Australian stillbirth CRE - a united national front to tackle stillbirth

Vicki Flenady

09:40 - 10:10

Sleeping position - how real is the link with stillbirth?

Adrienne Gordon

10:10 - 10:25

Questions/panel

10:25 - 11:00

Morning tea

11:00 - 11:10

Setting the scene: Preterm birth

11:10 - 11:40

Phenotyping the diffferent casuses of preterm birth - and how doing this might change management

Phil Bennett

11:40 - 12:10

Screening and treating infection to prevent preterm birth

John Newnham

12:10 - 12:40

Tips on stitching the cervix

Phil Bennett

12:40 - 13:00

Questions/panel

13:00 - 14:00

Lunch

14:00 - 14:10

Setting the scene: Stopping preterm birth

14:10 - 14:40

How effective are the tocolytic agents we have got?

Phil Bennett

14:40 - 15:10

Science corner: Hunting for a 'Goldilocks' dose of antenatal steroids to keep brains and lungs healthy

Matthew Kemp

15:10 - 15:40

The Australian Preterm Birth Prevention Aliiance

John Newnham

15:40 - 16:15

Afternoon tea

16:15

Special panel session: Defining where are we up to with progesterone to prevent preterm birth

16:15 - 16:40

Overview of the state of play

Stephen Tong

Panel - Phil Bennett, Alison Fung, John Newnham, Katie Groom

Moderated by Stephen and Sue

17:20 - 17:25

Agreeing on what we agree on....

19:00

Conference dinner MCG
Day 3
08:00 - 09:30

Morning activity that is super fun

09:30 - 10:00

Breakfast

10:00 - 10:10

Setting the scene: Genetics

10:40 - 11:10

NIPT explained - everything you wanted to know but were afraid to ask

Rossa Chiu

11:10 - 11:40

Carrier screening refresher - a walk through for the generalist

Lisa Hui

11:10 - 11:40

Abnormal NIPT but baby's OK - what next?

Rossa Chiu

11:40 - 12:00

Questions/panel

12:00 - 13:00

Lunch

13:00 - 13:10

Setting the scene: The fetus in strife...

13:10 - 13:40

Fetal Hydrops

Katie Groom

01:40 - 02:10

Science Corner - bacteria and viruses lurking in the placenta as the cause of major pregnancy complications

Gordon Smith

02:10 - 02:40

Contemporary management for complex monochorionic pregnancies

Katie Groom

14:40 - 14:55

Questions/panel

14:55 - 15:20

Afternoon tea

15:20 - 15:30

Journal Club - the hottest papers of 2019

15:30 - 16:30

J Club

Sue and Stephen

16:30 - 17:00

Special Oration - 35 weeks and a small for gestational age fetus is suspected. What do we do?

Gordon Smith

17:00

Farewell drinks (drinks on us...til the tab runs out)
Conference venue
Overlooking St. Patricks Cathedral, Fitzroy Gardens and the cosmopolitan mix of Victorian and modern architecture of the central business district, Park Hyatt Melbourne offers an exclusive santuary in the heart of the city. All conference sessions will be held in the Park Hyatt's spectular ballroom. The dedicated culinary team at the Park Hyatt will provide a fantastic fresh menu specially selected for our delegates.
Park Hyatt Melbourne
1 Parliament Place
East Melbourne, VIC 3002
Phone: 03 9224 1234
About the Park Hyatt Melbourne

Getting there and parking
Train - 5 minute (350m) walk from Parliament station
Tram - No. 11, 12 or 109
Valet parking - $50 per day
Wilson Parking (enter via St Andrews Place)

Please note Wilson Parking discount vouchers will be available at registration for $22 per day (Thursday and Friday). Saturday parking is $10 - no voucher required. Limited spaces available.
Accommodation
The Park Hyatt, Melbourne, is a five star hotel positioned just a short walk from the Paris End of Collins St. It is nestled next to Treasury and Fitzroy Garden, one of the most beautiful corners of Melbourne. As a delegate, you will receive a super special rate of $320 per night for stays between the 24 November to 1 December 2019. There are only 80 suites at this rate, so book your room early!
To take advantage of this great rate, simply book via one of the following:

1. Calling 13 12 34 (9am - 5pm EST) and quote G-GRME
2. Online here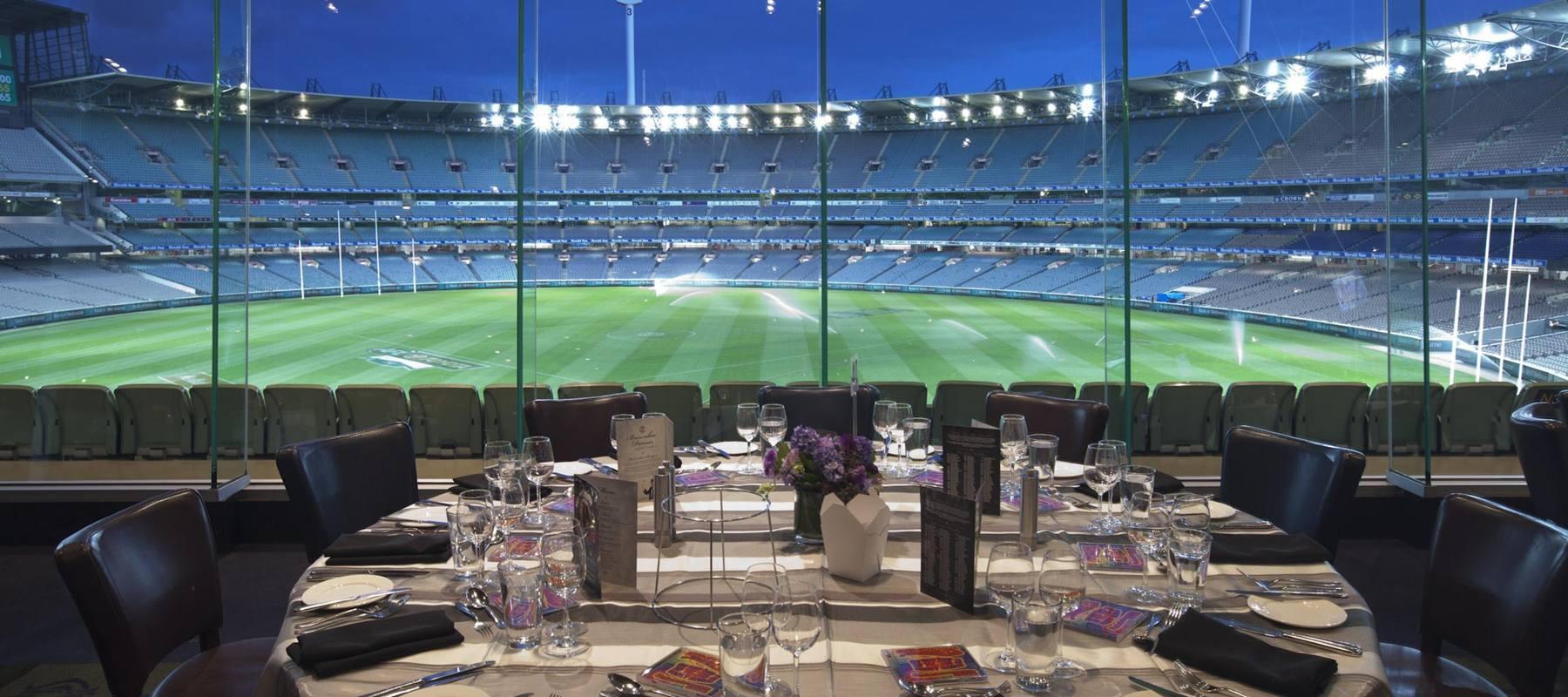 The conference dinner will be held at the Melbourne Cricket Ground on Friday 29 November. We will dine in the lovely Olympic room with dual views of the grounds and surrounding gardens. Our conference dinners are jam-packed with live entertainment, games and lots of dancing. This year will be no different and planning is under way for an exciting night where delegates can unwind and mingle with speakers and colleagues.
Sponsors
We gratefully acknowledge the support and contribution of our sponsors in 2019.






Registration
$1400 - General rate 

$850 - Midwife/Sonographer/Student
$70 - Gala Dinner (Friday evening 29 Nov)
Register